Immunity: The Science of Staying Well – eBook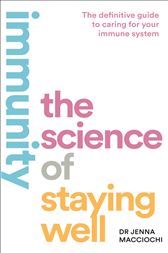 Start strengthening your immunity for good.
In this ground-breaking book, expert immunologist Dr Jenna Macciochi unravels the new science around immunity.
· Immunity-nourishing nutrition and the best foods to eat
· The importance of movement and how often to exercise
· How immunity and sleep are deeply linked
· Why mental health matters when it comes to your immunity
Offering simple, clear, and expert advice, debunking popular myths along the way, this fascinating book explores the secrets of people who never seem to get ill, how to protect yourself against viruses and why some germs are actually good for us.
Learn how to cultivate your long term health today.
About The Author
Dr. Jenna Macciochi has over 20 years' experience as a scientist researching the impact of lifestyle on the immune system in health and disease. A strong advocate of preventative medicine, she is on a mission to break down the science behind our health and share the secrets of how to be well, for good. Based in Brighton, Jenna is a lecturer at Sussex University and a qualified fitness instructor. Her writing has been featured in The Times, Women's Health, Marie Claire, Glamour Magazine and Metro amongst others.
| | |
| --- | --- |
| | Two Brothers Organic Farms Immunity Boosting Powder, Formulated by Luke Coutinho 150 gms |
Natural Remedies for Emerging & Resistant Viral Infections – eBook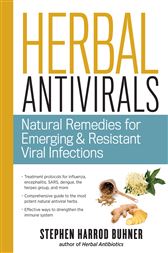 Take control of your health and learn how to use herbs safely and effectively to prevent and fight off a wide range of viral infections, including coronaviruses, SARS, influenza, encephalitis, dengue fever, and more. Expert herbalist Stephen Harrod Buhner offers this exhaustive guide to understanding the antiviral properties of dozens of herbs, backed up by the most recent research studies and findings. In addition to in-depth profiles of the herbs, Buhner provides complete, step-by-step instructions for obtaining high-quality herbs and preparing and using customized herbal formulations for strengthening the immune system and addressing each virus. Discover how these natural remedies can help keep you and your family healthy and strong.
Nutrition Almanac, Fifth Edition (5th ed.) – eBook
Three million-copy bestseller
Trusted for 30 years, the Nutrition Almanac has supplied accurate, up-to-date, factual information to a generation of health-conscious people.
EASY-TO-USE HEALTH INFORMATION
Offering reliable information on the latest scientific discoveries, and numerous handy charts and tables, this brand new edition of the Nutrition Almanac makes it so easy for you to find the facts you need for good health. It's your best buy for healthy living!
HUNDREDS OF WAYS TO IMPROVE YOUR HEALTH

Learn what vitamins and minerals can do for your body and mind

Discover rich sources of vitamins and minerals in foods at your supermarket

Fight disease, boost immunity, and slow the effects of aging with scientific information on nutrient benefits

Optimize your nutritional status with tools in this book

Find out which food ingredients and additives to avoid

Evaluate supplement, herb, and vitamin fads with solid facts

Get practical information on treatments from acupuncture to sound therapy

Find more nutrition data, including newly released RDAs, calcium charts, and calorie figures for more activities

Get trustworthy diet, health, and exercise information that can help you feel better every day of your life.
http://bestoftheworld.co.in/tulsi-i-e-holy-basil-for-immunity/
Disclaimer –
This article is for informational and educational purposes only. The writer is not responsible or liable for any damage caused to you after using this information.