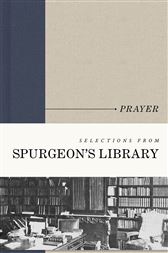 US$19.99
The Selections from Spurgeon's Library series celebrates the foundation of faith upon which C. H. Spurgeon stood. As a voracious reader, Spurgeon gleaned wisdom from his predecessors and contemporaries that deeply impacted his preaching, writing, and ministry. B&H Academic, in partnership with the Spurgeon Center at Midwestern Baptist Theological Seminary, has culled through more than 6,000 volumes in Spurgeon's personal library to present a curated collection of essays and sermons on prayer that shaped Spurgeon himself. Addressing such topics as the privilege of prayer, imitating Christ in prayer, and prayer without ceasing, this volume is sure to help readers grow in their faith and experience the true power in prayer.
In simple terms, talking to God is called prayer. And the power of prayer can be multifarious. It's simply opening our heart to our Father in Heaven. It's like going to Him and telling Him everything you have in your heart. Those of us who say, 'I don't pray because I don't know how to pray', haven't understood that prayer is just being yourself and talking to God with honesty and sincerity. Prayer is powerful and you need to remember, the words uttered in prayer have wonder-working power. When you are tempted to commit a sin due to certain helplessness, just pray. Prayer gives us the power to overcome all sorts of problems. Prayer gives us the strength and the faith to finish the daunting tasks in this life. Prayer changes us from the inside, which soon gets reflected on the outside.
It is very important to pray for God's help in protecting you and your family every day from unseen dangers and sins. Pray for the well-being of your parents, spouse, children, and others every single day. Moreover, as parents, the responsibility lies with us to make our kids aware of the importance of prayer. Because the children are extremely vulnerable and the choices they make during their growing up years will shape their future.
If you struggling with an issue in life and desperately seeking a breakthrough you must resort to prayer recommended by the religion you follow. There's no point fretting or getting frustrated. You can enhance the impact of prayer by fasting. There is power in fasting and praying. It may sound very spiritual and something you have never done before. But, fasting and prayer are powerful. Fast and pray on a regular basis (weekly or more frequently if possible). Even if the breakthrough doesn't happen that day, you will receive the strength and the grace to carry on. Don't stop fasting and praying even if you feel the breakthrough is taking too long. Continue fasting and praying. You will get the answers to your problems with the power of prayers.
It has also been found that if a person knows that he or she is getting the power of prayer, it can be uplift and increase his/her morale. Thus aiding recovery from any issue whatsoever. Also, studies have suggested that prayer can reduce psychological stress, irrespective of the god or gods a person prays to. And, the psychological benefits of prayer does help reduce stress and anxiety, promote a more positive outlook, and strengthen the will to live. Other practices such as Yoga, Tai chi, Meditation may also have a positive impact on physical and mental health because they contain some elements of prayer besides other things.
Prayer is the practice of connecting to something deeper and more meaningful in life. It is rooted in a sense of spirituality. Prayer has two dimensions, one internal in the form of self-reflection and self-awareness, and the other external in a sense of connection with something you wish to address in-depth. Prayer, when done with the right awareness and intention and in moderation, can be beneficial in a number of ways:
– It can help people delay gratification and control impulsive actions. By using this time to calm your mind, you can evaluate situations to see if it would cause any harm and if it does, to stop yourself from doing it.
– It can give you time to be able to see things from a broader perspective and that by itself can help with obsessive acts and compulsive thought or limited thinking.
– It can help people find commonality and beauty in diversity. By reflecting on the collective unconscious, people realize that they are sharing many of the same needs, desires, essence, and beliefs like others, at the root.
– It can help people focus and concentrate. By taking a break from the daily activities and having a quiet time, one is able to use it to train his brain to be focused on the here and now.
– It can give people a sense of comfort, being at ease and being protected, therefore decreasing too much anxiety and irrational fear.
– It can be used as an opportunity to cultivate rational thinking.
– It can you unleash and give new and creative ways to solve your problems.
– It can be used as a time to learn how to connect better to others and to increase one's emotional/social maturity.
– It can be used as a time of self-affirmation to enhance self-confidence.
https://amzn.to/3aP1szF – 24″x24″ Handmade Decorative Woolen Puja Aasan Mat for Prayers – Orange
And remember, by repeating a series of meaningful, positive, lifting, and thankful phrases, you can train your brain to be more positive, be aware, be able to focus and concentrate, and remove unwanted thoughts.
Hence it can be concluded that the more you pray, the more insights and inspirations you will get. The more you pray, the smarter and wiser you will become. The more you pray, the more you become perceptible to the spiritual reality.
The power of Prayer can help you in getting all those things that may seem impossible otherwise.
http://bestoftheworld.co.in/2020/11/03/sacred-music-for-healing/
Discover Our Natural Supplements Today!
– Xtend-Life Natural Products_
https://amzn.to/3a3D3XZ – Zoya Gems & Jewellery Amethyst 108 bead Mala.
Brand Zoya Gems & Jewellery
Handmade
AMETHYST MALA 108 + 1 BEADS ROSARY
NUMBER OF BEADS – 108 + 1 SIZE OF BEADS : 8 MM(APPROX) LENGTH OF MALA : 90 CM (APPROX)
https://amzn.to/3cWJ3DW – Casio Youth Digital Digital Black Dial Men's Watch