Coconut as Antimicrobial & Immune Booster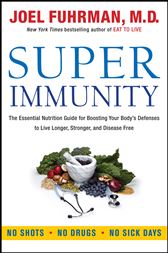 US$4.21. eBook From world-renowned health expert and New York Times bestselling author of Eat to Live and Eat for Life Dr. Joel Fuhrman comes to a practical nutritional plan to prevent and reverse disease—no shots, drugs, or sick days required.
Introduction :
Coconut has numerous nutritional and medicinal properties. Hence coconut and it's various derivatives are being used as antimicrobial agents and also as an immune booster in many parts of the world for long. It has got a large variety of beneficial fatty acids, vitamins C and E which are antioxidants, B vitamins, minerals, and dietary fibers. And, it is due to this unique combination of beneficial nutrients that coconut acts as antimicrobial and immune booster besides other benefits like heart and brain health. Also, it can help in controlling blood sugar burn fats.
Coconut, also known as Cocos Nucifera scientifically has a lot to give us. In fact, all its parts are useful to us in one way or the other. According to the Ayurvedic system of medicines – teaching inscribed in the oldest scripture of Hinduism about 1500 B.C. – coconut oil nourishes the body and increases strength. The oil was also valued for its antimicrobial properties. Different preparations of coconut oil promote luxurious hair growth and protect the skin from bacterial, protozoal, and viral infections. Hence coconut oil can help us in fighting novel coronavirus i.e. COVID – 19. It can help us in fighting the virus effectively by boosting our immunity and also attacking the virus to destroy it.
Generally speaking, there are two types of Coconut Oil refined, bleached, and deodorized called Refined copra oil (RCO) and virgin coconut oil (VCO). In essence, VCO is produced by the wet extraction process of the fresh endosperm of the coconut while RCO is obtained by the dry extraction process of the dried endosperm of the coconut fruit. Both RCO and VCO have similar fatty acids and triglycerides profile. However, VCO retains a higher content of bioactive compounds such as vitamin E, sterols, and polyphenols as refining remove a portion of these compounds in RCO.
Various studies have shown that coconut oil, either topically applied or ingested, gets broken down to release Lauric Acid and Monolaurin. And, both are powerful anti-microbial agents. The studies reported that the antiviral, antibacterial, and antifungal benefits of coconut oil are very strong compared to formulation medicines. It is because not only does coconut oil metabolites have antimicrobial activity but also these remarkable derivatives does not allow resistance organisms to appear. The anti-microbial mechanistic action also helps activate the anti-inflammatory nature of the immune response in human body. In vitro, animal, and human studies support the potential of coconut oil as effective and safe immune modulator.
Immune System response modulation by the coconut oil has drawn the attention of a large number of scientific investigators. And, various aspects of the immune response, like epithelial lining, inflammatory and allergies, etc. are impacted positively with coconut oil intake. Also, a few mechanistic studies connected the coconut oil metabolites with immune cells and hence proposed possible modulation. Human trials were done on infants as well as HIV infected patients, whose immune systems are the most susceptible. And, it has given encouraging results with regards to the role played by Coconut Oil in improving the immune response of their bodies. So, more studies are needed to establish various pieces to the puzzle explaining the healthy lifestyle and superior immunity levels of the tropical population having coconut oil as part of their diet.
School from home with top rated stationery essentials starting Rs.79
– Buy from Amazon
| | |
| --- | --- |
| | Coronavirus: Leadership and Recovery: The Insights You Need from Harvard Business Review |
https://geni.us/VTFkA
The coconut oil has other important uses in our day to day life as given below :

Coconut Oil as a cooking oil:
You can use a teaspoon of coconut oil for cooking any type of food vegetarian or non-vegetarian. Food cooked in coconut oil does help to curb fatigue and muscle pain with regular usage. Also, it helps in losing weight.

Coconut Oil in smoothies:
Undoubtedly, you can add coconut oil to the smoothies. It will not only help to thicken the texture but also will add to the nutritional value.

Coconut Oil as massage oil:
Coconut oil is a good massage oil. It is so because the coconut oil is easily absorbed in our bodies. Coconut oil is absorbed so easily that sometimes massage therapists use an extra external moisturizer to make sure there is lubrication left while massaging. Almond oil is one common oil added for this purpose. Using it as a massage oil protects our bodies from pathogens. Because the pathogens are prevented from entering into our bodies.

Coconut Oil in moisturizers:
Coconut oil is good and very economical moisturizer. Besides moisturizing the external body parts it also builds a shield against viruses like COVID- 19, bacteria, and other microbes. Hence, applying coconut oil mixed with other skin lotions can be a big advantage. As our skin is the first tissue that comes in contact with the air around us which contains all sorts of impurities including microbes, coconut oil can keep our skin protected, healthy and strong.

Coconut Oil as make-up remover:
Coconut oil is a harmless substance and protective for our skin. Hence, it is widely used as a make-up remover. It not only removes makeups but also protects our skin from harmful chemicals that makeup materials contain. And, it is very easy as well, just rubbing the spot with coconut oil will suffice.
Side Effects :
Coconut oil is mostly safe in all forms we use. But, as it happens with all good things improper and excessive use may create problems. Hence caution must be exercised while using it. As we know that coconut oil is available in the market in two forms i.e. virgin coconut oil, and the commercial coconut oil.
Virgin coconut oil is the purest form of the oil. And, it is not processed. Hence, it ranks higher on the benefits scale and comes with almost no side effects. But the commercial coconut oil which is mostly used by us is the processed variant. So, it could have certain side effects. A few of these include weight gain, allergies, an increase in bad cholesterol levels that may be harmful to our hearts, etc. Hence, caution must be observed if using regularly.
In recent times the recognition of the positive health effects of coconut oil been gaining popularity. And, never before in the history of man is it so important to emphasize the value provided by this natural agent with 360-degree protection like a nutraceutical as well as a cosmeceutical benefits. Coconut oil and its various forms can contribute to a more vigorous and healthy future for all of us. Hence, we can conclude that coconut and its various ingredients can be used as an antimicrobial and immune booster in the real sense of the term.
Know about another immunity booster herb :
http://bestoftheworld.co.in/giloy-boosts-immunity/
| | |
| --- | --- |
| | And We Came Outside and Saw the Stars Again: Writers from Around the World on the COVID-19 Pandemic |
https://geni.us/fbYuobY
Disclaimer –
This article is for informational and educational purposes only. The writer is not responsible or liable to any damage caused to you after using this information.
Save on Airocide Refurbished units!
Look And Feel Younger For Longer!
— Xtend-Life Natural Products_
Shop Now – Hemp – For specials starting at $14.99!
https://transact.miraeassetmf.co.in/investor/Index.aspx?trkid=562B71A2-ADA7-4D72-8092-AB3E49570F00