Tulsi i.e. Holy Basil for Immunity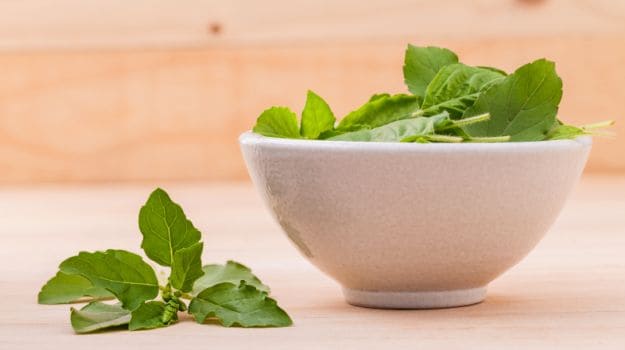 TULSI I.E. HOLY BASIL
https://amzn.to/35KgPH1 – Organic India Tulsi Ginger Turmeric Tea – 25 Infusion Bags – Shop from Amazon
Introduction
Tulsi i.e. Holy Basil is a plant that has given wonderful results in the prevention and cure of many diseases. Tulsi is a Sanskrit word meaning beyond compare. Undoubtedly there is hardly any herb on this planet that can compete with it. Tulsi i.e. Holy Basil has been used for an immunity enhancer since time immemorial. Not only does it boost our immunity and protect us against evil germs like novel coronavirus but also it helps in healing almost all skin disorders and many more diseases. just a few leaves of tulsi if used regularly can help resolve a host of health and lifestyle-related issues.
Tulsi is known mainly for its healing power and has several medicinal values associated with it. Perhaps that is the reason it is worshiped like a goddess. It comes in two varieties, Krishna tulsi (with smaller, darker leaves) and Rama Tulsi (with larger greener leaves, sometimes also called Shukla tulsi). Though Krishna tulsi is favored by worshippers of the Lord Vishnu, yet both plants are supposed to have the same medicinal properties in Ayurveda.
Tulsi i.e. Holy Basil is considered the best for immunity building because it contains the anti-stress agents. Several kinds of research have thrown light on the therapeutic significance and magnetic elements of tulsi in the overall wellbeing of all living beings. It is widely grown across the globe. Also, it is high on phytonutrients and antioxidants. It contains several minerals like iron, copper, magnesium, Vitamin A, potassium, etc. And, its anti-inflammatory properties are due to the presence of limonene, citronellol, and eugenol.
Tulsi i.e. Holy Basil is the best for immunity because it balances what is called Tridosha in Ayurveda. These are Vata, Pitta, and Caugh. And any imbalance in any of these causes diseases. Tulsi opens the heart to the field of Being. The light of Being illuminates the mind and gives it strength. The strong, peaceful mind is able to use the senses for good, rather than be enslaved by them. Tulsi opens the heart to the field of one's being. The light illuminating the mind and gives strength of high order. The strong, peaceful mind is able to use the senses for good.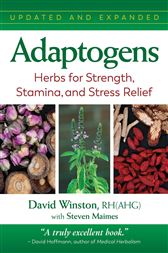 An updated and expanded edition of the definitive guide to adaptogenic herbs
Includes a Materia Medica with monographs covering 25 adaptogens, including eleuthero, ginseng, Rhodiola, Schisandra, ashwagandha, licorice, Shatavari, reishi, and holy basil, as well as complementary nervines, restorative tonics, and nootropic
Ayurvedic View
More and more persons are resorting to herbal ways of treatment for most of the medical conditions. It is because people consider the best for the body mind and soul. The reason is that the body does not have to bear the side-effects of those medications that one has to take. Herbal treatments are incredibly safe, with little or no side effects associated with it. Tulsi assumes the utmost importance when it comes to Ayurveda and naturopathy. Its essential oils are used to treat a number of ailments.
The physical elements of all herbs work on the physical elements of the body. But certain herbs like Tulsi i.e. Holy Basil have vibrational or divine elements that work on the gaps of physiology. These gaps are the places where all transformations in the body take place. These gaps are called Agnis i.e. fire in Ayurveda. Since so many transformations take place there, these gaps are the places where the intelligence of the body is supposed to be located.
Whenever we take a herb that having divine elements, like Tulsi, we naturally activate the gaps i.e. fire in physiology. The divine properties of the Tulsi plant actually clean these gaps or shortcomings. Hence it makes them more suitable for transformation.
Impact on body and soul: –
The word for this property in Sanskrit is Dipani. Any herb that has got this property increases the fire in one or more of the gaps of the physiology. This is done by cleaning the gap means removing blocks that prevent the flow of Prana or energy in the gap. Also, it is done by directly supplying more of the fire element. The Tulsi or Holy Basil does both.
This herb has got a heating property that delivers Prana rich in fire element to the gaps, especially the jataragni i.e. fire in the stomach. And can ignite the digestive flame. Further, as we are aware of the fact that the digestive system is the central place for most of the diseases to start. And Tulsi i.e. Holy Basil also has a divine vibration that can travels directly to all the gaps throughout the body and corrects the shortcomings.
Tulsi i.e. Holy Basil For Immunity Against Anxiety & Stress
Holy basil is a natural adaptogen that is a substance that reduces occasional anxiety and stress. Adaptogens are substances that help our body to become adapt to stress by boosting our immune systems. Also, they help in increasing endurance and balancing moods. It contains two antioxidants rosmarinic acid and carnosic acid that protect our cells. Also, these powerful antioxidants counteract free radicals and radiation. Further, they help in fighting environmental stresses on a cellular level. Thus making our body and mind strong enough to ward off the fear of COVID-19.
Uses Of Tulsi i.e. Holy Basil: –
1. It acts as a detoxifying, cleansing, and purifying agent – both from within and outside.
2. Hence it is good for skin – both ways e.g. when consumed and applied topically.
3. It is also effective in treating skin disorders, itching, and issues like ringworms.
4. It can be taken as teas or mixed in regular tea or can be had raw,in powdered form or paste or in the form of herbal supplements.
5. It has got antibiotics, anti-viral, anti-bacterial, and anti-carcinogenic properties.
6. It helps in relieving us from fever, headache, sore throat, cold and cough, flu, and chest congestion.
7. It is also beneficial in treating respiratory ailments like chronic bronchitis, asthma, etc.
8. It is loaded with phytonutrients, essential oils, Vitamin A, and Vitamin C.
9. Regular Tulsi consumption can also aid in balancing various bodily processes.
10. It regulates elevated blood sugar levels and is therefore beneficial for diabetics.
11. It helps in regulating uric acid levels in the body, thereby eliminating the risks of developing kidney stones. It is also beneficial for those who have stones in the kidneys.
12. According to the Central Drug Research Institute, Lucknow, India, Tulsi, or Holy Basil can help in maintaining normal levels of the stress hormone – cortisol in the body.
13. It can ward off the harmful effects of free radicals.
14. Tulsi is also good for dental problems and healthy gums.
15. It is an effective insect repellant and can help in treating insect bite.
16. Tulsi is also beneficial in treating diseases like Hepatitis, Malaria, Tuberculosis, Dengue, and Swine flu.
Precautions in Using Tulsi i.e Holy Basil: –
Tulsi i.e. Holy Basil is heat-producing, pungent, and flame enhancing as per Ayurveda. So anyone who has a high pitta constitution it can cause burning or other related problems. Hence it should be used in moderation by those persons in order to avoid problems related to it.
Further, due to its bitterness, Tulsi if used during pregnancy may cause miscarriage unless used very carefully. Bitter herbs stimulate the liver to detoxify itself and can transfer too many reactive toxins into the blood, causing a miscarriage.
Shop Now For products starting at $14.99! Hemp Products
Shop now for the most detailed ancestry test on the market